Saturday, October 5, 2013
at 8:00 p.m.
at the
glorious Frauenthal Theater
in downtown Muskegon.
ONE SHOW ONLY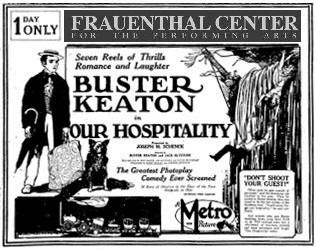 Our Hospitality

(1923)
Starring Buster Keaton, Natalie Talmadge, Joe Keaton and Big Joe Roberts.

This comedy takes inspiration from the real-life, 19th-Century Appalachian feud between the Hatfields and McCoys, adds a dash of Shakespeare's Romeo and Juliet and injects some perilous river stunts to create seven reels of thrills, romance and laughter!
The Iron Mule

(1925)
Starring Al St. John, Doris Deane and Buster Keaton.

Buster's mentor Roscoe Arbuckle, his nephew, Al St John, and an uncredited Buster Keaton reunite for this pastiche of John Ford's The Iron Horse.