Cobwebs and Rafters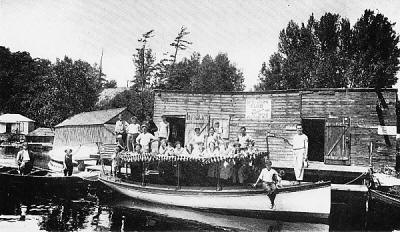 The Actors' Colony had been established in 1907. Soon after, the group built their first clubhouse, Cobwebs and Rafters on the shore of Muskegon Lake on land donated to the group by founding member Lew Earle.

Renown for it unfinished state, the modest structure served the group well.

The building hosted numerous parties and practical jokes over the years. Readers of Buster Keaton's autobiography know it as home to "the Clown Pole". The site served as the launch for the growing collection of watercraft owned by colony members.

Bill Flemen's "Violanta, Pop Millard's "Kate M", The Keaton's "Battleship" and Lew Earl's "Dixie Pirate" could be seen regularly on Muskegon Lake.

Featuring speed boats, row boats, sail boats and cruising vessels, the accumulation was the foundation of

the Theatrical Colony Yacht Club, formed in 1916.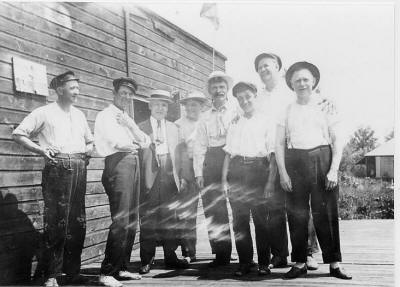 Theatrical Colony Yacht Club
On July 3, 1916, an article appeared in the Muskegon Chronicle noting that the cornerstone for a new clubhouse had been laid. The handsome clubhouse would rival anything else found on the eastern shore of Lake Michigan.

In September, the formal organization and incorporation of the Theatrical Colony Yacht Club became offical when the articles of association were received by Muskegon county clerk John B. Barlow from the Michigan Secretary of State office in Lansing.

The seven-member board of trustees was comprised of Joe Keaton, James Emerson, Will Rawls, Max Gruber, Joe Roberts, Jack Gardner and William Fleming. Other members of the Club were listed as Rex Faulkner, Art Hall, George Pearl, LeRoy Millard, Billy Clark, George H. Stevens, E Conn Clayton, Lew Pearl, Jack Shannon, Jack Wicks, John H. Burns and Fred J. Lewis.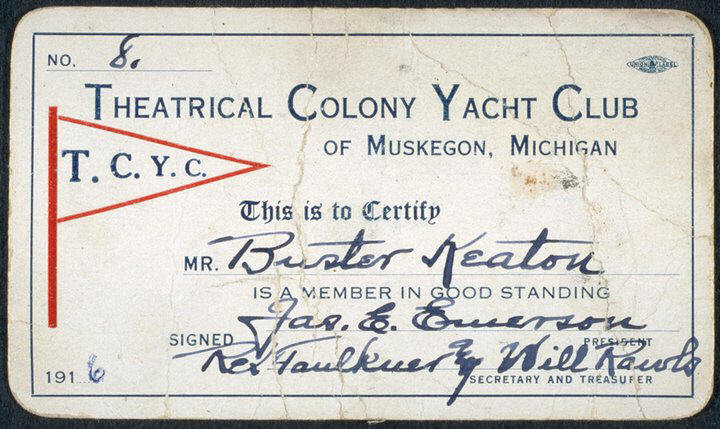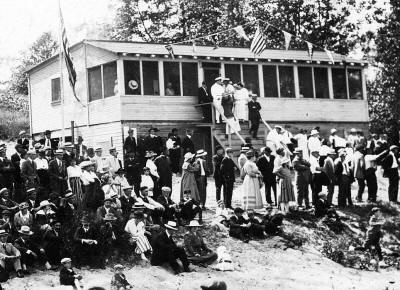 Of Course the opening of the

T.C.Y.C., as it became known,

was great cause for celebration.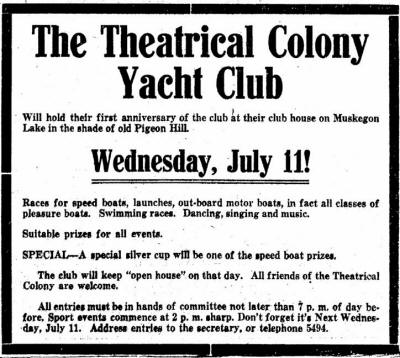 A first anniversary to celebrate the new headquarters was held on July 11, 1917, "at their club house on Muskegon Lake in the shade of old Pigeon Hill." Races for speed boats, launches, out-board motor boats and all other pleasure boats was a feature of the club's first Regatta. A total of four silver cups were awarded to the winners of races.
A huge crowd enjoyed the 1917 event, and the Regatta was expanded to a four-day gathering for 1918. Seven races were planned for each day, with a long course of about 15 miles and a shore course of six miles. Events kicked off at 2:00 p.m.
The 1919 Regatta was greeted with ideal weather, enthusiastic crowds and strong rivalries between racers. Races on Muskegon took entrants to Bear Lake channel on the north side, across to the paper mill and back to Bluffton creating excellent views of the triangle course for spectators. Muskegon's Beerman's Band provided the soundtrack, while Captain William Gatfield's Life Guard crew (today recognized as the Coast Guard) staged a drill for the benefit of the crowd. In a few short month, the group's skills would be put to the test when the Crosby steamer Muskegon crashed into the pier early one October morning during a Milwaukee to Muskegon crossing.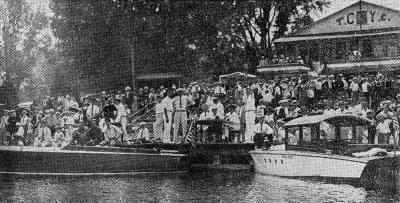 No one knew that before long, the colony would be on its last legs, as many members would move on to pursue their careers. Joe and Myra Keaton's oldest child, Buster, had "Busted into Movies" in 1917. He would be followed by others in pursuit of work, including Big Joe Roberts, Rex Faulkner, and Lex Neal.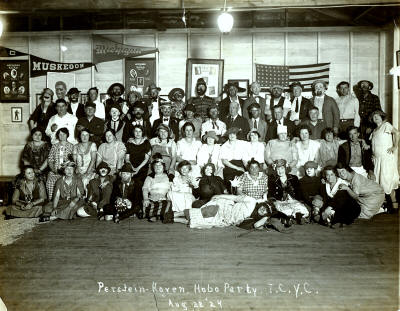 But things were still going strong in 1924, as shown in this image from a Hobo Party in August of the year.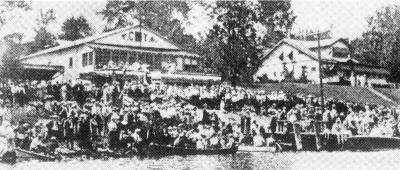 Still membership continued to dwindle. The hard times the club faced were captured in song, found among the clippings in the Millard family scrapbook.
T.C.Y.C. BLUES
Good times every night all summer long.
Down at the clubhouse
So far, there's been nothing going wrong.
Down at the clubhouse
Lots of clowns from whot to choose
No one's ever been known to refuse
And so we've had no T.C.Y.C. Blues.
You've all heard the knockers club and little Nell
Down at the clubhouse
At Ella Rawl's rose dance, you've all laughed like hell
Down at the clubhouse
You've all seen Buster on a wild, wild cruise
With his Peerless. red sweater and his tennis shoes
But you've never heard those T.C.Y.C. Blues
Those Club House Blues.
You've all seen that famous statue clog
Down at the clubhouse
The tity-tot man, Miss Mosquito and the frog
Down at the clubhouse
Every one has been unthused, with the guy from Texas
But that's no news,
You've never heard those T.C.Y.C. Blues.
Pop Millard is the stewart, pro tem
Down at the clubhouse
We've had singing and dancing in our little shack
For the beef steak and fish-fries, how our lips smack
We've had a surprise and the quartette in tune
But we love best Joe Keaton and his Mr. Coon.
Old Geo. Lovett left us flat and said good-bye
Down at the clubhouse
Pearl Bros., Burns and Patsy Barrett sailed for Chi.
Down at the clubhouse
Everybodys leavng by 3's and 2's
And as each familiar face we loose
You're going to hear those T.C.Y.C. Blues.
Pretty soon there won't be anybody here
Down at the clubhouse
All locked up and no one gargling beer
Down at the clubhouse
Where ever we are on the old cho-cho's
Rockford, Chapaign, Kalamazoos
Somebody's going to sing those T.C.Y.C. Blues
Those Club
House Blues.
By 1938, there were only 13 dues-paying membersand the building was sold to private owners who converted it a private residence.